Environmental Maps
---
Thanks to the advent of GIS and other technologies, we are able to offer digital mapping and viewing of a variety data and other information. Browse through the links below to view the County's mapping website, a digital library of scanned mining maps of the Tri-States and other maps brought to you by
Jasper County Beacon Maps and Data Website
Jasper County offers a mapping and data website where you can view aerial photography, data and a wide range of maps online for free. There is also a subscription available where you can view detailed parcel assessment information as well as building pictures and sketches. For information on how to subscribe, please visit: the GIS mapping page.
---
The Tri-State Mining Map Collection at Missouri Southern State University
This collection consists of more than 5,000 maps that document lead and zinc mining in Southwest Missouri, Southeast Kansas, and Northeast Oklahoma. The collection has important historical, environmental, and economic information available in no other archival collection. Click here to enter site:
---
Environmental Maps
These environmental maps are large PDF files, approximately 2 megabytes in size and about 34" X 44". You can zoom to 100% and pan / scroll around the map for a more detailed view of your area of interest. You will typically have increased performance if you download the PDF file (right-click on map and choose "save target as" in Internet Explorer or "save link as" in Firefox). The maps come from a variety of sources, but if you have any questions, about the maps we will direct them to the appropriate organization.
---
Mine Areas and Smelter Map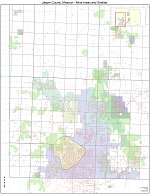 This map was compiled by the Jasper County GIS Department using data provided by the US Environmental Protection Agency. www.epa.gov. This map displays areas in Jasper County were there was active mining and an active smelter in the area. These former activities raise concern over soil quality. Jasper County and the EPA have made efforts to remediate soils in these areas of concern. If you are building, please view the Environmental Contamination Ordinance area for more information.
---
Impact Areas and Casing Depth Map - Special Area 2 Jasper and Newton County, Missouri
Effective January 2016 to December 2016.
Map compiled by the Missouri Department of Natural Resources Division Missouri Geological Survey Wellhead Protection Section
For more information, please visit the Missouri DNR Division of Environmental Quality website.
http://www.dnr.mo.gov/geology/geosrv/wellhd/
---
Spring River Watershed with HUC: #11070207140002
General Reference Map for the Spring River Watershed Management Plan for HUC #: 11070207140002.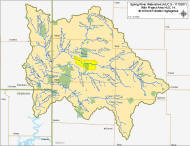 Follow the link above to go to the Spring River Watershed page.
---
Download Environmental GIS Layers
Link to download Environmental GIS Layers in shapefile format.